Not happy with Meredith and Derek's "post-it" wedding? Tell Shonda/ABC how you feel!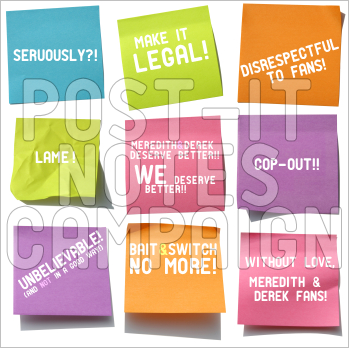 1. Go to
this website
and create your own post-it
2. Save the image and upload it to imageshack or to some other imagehost
3.
Tweet Shonda
and make sure to give her the url of your post-it
OR mail paper post-its to ABC:
Grey's Anatomy
Production Office
4151 Prospect Ave.
Los Angeles, CA 90027
or
ABC, Inc.
500 S. Buena Vista Street
Burbank, CA 91521-4551
or you can comment here and I'll send them.